Corrosion can be defined as deterioration of metal as a result of a chemical reaction with factors from the environment. This reaction can be caused by various factors, which is why many different types of corrosion can be distinguished. One of the best known forms of corrosion is rust. A brown layer forms on the metal as a result of a chemical reaction between oxygen and damp. Both terms – corrosion and rust – are often used interchangeably. However, the use of both terms is incorrect. Whereas corrosion can be defined as the umbrella term for the deterioration of metal, rust is only one example of this. And although rust is indeed one of the best known forms of corrosion, other forms of corrosion can also be distinguished. But which other forms of corrosion do we know? And how can you best remove corrosion?
Types of corrosion
As said, there are several types of corrosion. Corrosion is caused by a chemical reaction between different factors. In case of rust this is oxygen and damp, but corrosion can also be caused by acid, electrical tension or bacteria. We can differentiate the following ten different types of corrosion:
Oxygen corrosion
Uniform corrosion
Acid corrosion
Galvanic corrosion
Stress corrosion cracking
Stray current corrosion
Pothole corrosion
Crevice corrosion
Intercrystalline corrosion
Microbacterial corrosion
Would you like to know more about corrosion and its origins? Then read more about the different types of corrosion.
Removing corrosion
There are several ways to remove corrosion. Traditionally, this was mainly done by abrasive blasting. With this method of surface preparation, an abrasive is applied to the surface at high pressure in combination with air, which removes corrosion, but also other dirt such as mill scale and coatings. A well-known example of abrasive blasting is sandblasting. Over time, however, several disadvantages of blasting came to light. For example, several dangers of sandblasting were discovered, and blasting is also a time-consuming and expensive activity.
With the Bristle Blaster® and MBX®, MontiPower offers the revolutionary techniques in the field of surface preparation. The electrically driven tools are easy to operate and have a very fast and effective operation. The Bristle Blaster® and MBX® are characterized by a rotating brush with patented curved brush tips. These brush tips not only ensure effective corrosion removal, but also create a surface profile that can be used as an adhesion layer for a new coating. This makes the Bristle Blaster® and MBX® the perfect alternative to sandblasting and other abrasive blasting techniques.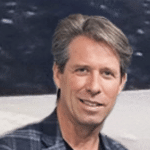 Frits Doddema
Author of MontiPower®
Leadership | Sales | Marketing | Development
Our CEO Frits Doddema, born in 1970, has a background in Industrial Coatings since 1998. He worked for Sigma Marine Coatings The Netherlands, Carboline Coatings for Germany/Central Europe, STOPAQ BV from the Netherlands, and SealforLife Industries before he joined MONTI - Werkzeuge GmbH in 2018. Since 2008 he works as the CEO/Partner.
He is passionate about alternating solutions which make a true difference. Nothing is impossible is his credo. To make the impossible possible, Frits and the management believe in just one idea to make it happen and to turn the company in a great firm. The innovative approach for game-changing blasting and paint solutions is hands-on keeping in mind the difficult field circumstances for operators, respecting nature and long term costs. The mission is to avoid any disagreement over quality of prep work and coating. Frits and his team push for non-hazardous long term corrosion prevention solutions to overcome any hassle out of a coating job ensuring the best possible bond. The world's best coatings deserve the world's best surface preparation. Like in daily life, preparation is everything. From different perspectives like Safety, Health, Ergonomics, Productivity, Recyclability, Co2 neutrality of the plant and the coating process, Substrate Compatibility, Corrosion Resistance, Frits and team are driven to come with improved unique contribution solutions to existing and new end markets.
News
The latest news about us