Preparing and cleaning surfaces can be a difficult and time-consuming job. Consider, for example, the removal of corrosion, paint or other types of coatings. Often such layers are removed from the surface using sandblasting. Blasting with sand is a cleaning method that has been used for many years, but it also has its drawbacks. Fortunately, there are now alternatives to sandblasting that are just as good in quality; and even considered better.
What is sandblasting?
Sandblasting is the cleaning and preparation of surfaces to remove rust, paint, copper slag, millscale or other dirt. It is the most well know form of abrasive blasting or grit blasting. By blasting a mixture of sand and air on an object at high altitude, an abrasive effect is created, causing the layer to peel off from the surface. In addition to the cleaning effect, sandblasting also adds structure to the surface. As a result, sandblasting is not only used for cleaning, but also for processing surfaces. Due to the high pressure of sand that is blasted onto the object creating a structure on the surface, the object gets an ideal bonding layer for a possible new coating. For example, sandblasting is often used to prepare steel.
Why use an alternative to sandblasting?
Although sandblasting has been done for quite some time, over the years more and more dangers of sandblasting have been discovered. Firstly, sandblasting is not suitable for cleaning or treating every surface. The sand has a very persistent effect, which means that objects can be damaged quickly and easily. This is one of the reasons why sandblasting requires a lot of preparation, and why it is recommended to always have it carried out by a professional. But that's not all. Blasting with sand is not only damaging for the surface, but also harmful for your health. Due to the high pressure of which the sand hits the surface, the grains break up into small particles. Inhaling these particles can cause various health problems. For this reason, in many countries it is prohibited to blast with sand and an alternative blasting tool is therefore used. But that is no longer the only alternative to sandblasting these days.
Is soda blasting better than sand blasting?
One of the alternative blasting techniques to sand blasting is soda blasting. Soda blasting does not use sand but soda granules, made from sodium bicarbonate. But is soda blasting better than sand blasting? To answer this question, we list the various advantages and disadvantages of soda blasting. First of all, soda blasting is 100% safe, unlike working with grains of sand. In addition: given that the soda granules can be completely dissolved in water, there will be no dust generated. In contrast, blasting with sand is a lot faster and more effective, especially for industrial applications. So soda blasting has its advantages, but also its disadvantages compared to sand blasting. Fortunately, MontiPower offers with its Bristle Blaster® and MBX® the revolutionary technique in the field of surface preparation, which combines all the advantages of sand blasting, soda blasting and other abrasive blasting techniques.
The alternative to sandblasting: Bristle Blaster® and MBX®
With the power tools from MontiPower, sandblasting is a thing of the past. No sand and no blasting tools; With the Bristle Blaster® and MBX® you can quickly and easily clean surfaces from corrosion and other layers of dirt. Not just cleaning; the patented technology of the power tools also ensures that the surface can be easily processed. It makes Bristle Blaster® and MBX® the only power tool in the world that can 'sandblast' with a comparable quality of the original blasting method.
How do the alternative sandblasting tools work?
The Bristle Blaster® and MBX® are hand-operated tools, equipped with a rotating brush. Due to the special designed curved appearance of the tips of the brush, the surface is cleaned quickly and easily with a comparable kinetic energy to traditional sandblasting. Because the tips are released with great force from behind the accelerator bar of the tools, the tips immediately retract from the surface, providing the same micro-structure in the surface as sandblasting. In this way, the Bristle Blaster® and MBX® offer all the benefits of sandblasting, including the high-quality result. This makes MontiPower's power tools the perfect alternative to sandblasting. An alternative that can be used for many purposes.
Alternative to sandblasting metal and rust
For starters, the Bristle Blaster® and MBX® are the ideal alternative to sandblasting metal and rust. In the metal industry, sandblasting has been the standard for preparing metal products for decades. However, sandblasting is no longer the only and best way to clean metal. In addition to the previously mentioned disadvantages, sandblasting metal is slightly more complex than that of other materials. This is partly due to the type of sand grain that is used when blasting metal. Because sandblasting metal is more difficult than cleaning other materials, it requires a larger grain of sand and therefore more intensive work. It makes sandblasting metal relatively expensive. MontiPower's power tools does the same job better, faster and more effective. An investment in this alternative for sandblasting metal and rust therefore saves considerable time and money in the short term.
Alternative to sandblasting cars
Sandblasting is a widely used cleaning technique in the automotive industry. By sandblasting a car, the paint is removed from the body of the vehicle, after which a new layer of paint can be applied if necessary. However, the sandblasting of cars involves the necessary risks. When sandblasting a car is not done properly, severe, sometimes irreparable damage to the surface can occur. But what is the alternative to sandblasting cars?
MontiPower has been active in the automotive industry since 1987. Needless to say, we are therefore aware of the vulnerability of the car and the dangers that the processing and surface preparation of the car entails. With our power tools for surface preparation, we have an extensive set of electrical tools as the alternative to sandblasting cars. The Bristle Blaster® and MBX® provide the best possible result in a simple and effective way. Not just for removing the paint; also for the adhesion performance after removal. It ensures a more effective process, less rework after completion and ultimately higher customer satisfaction. A win-win situation.
How do I remove paint without sandblasting?
Not just in the automotive industry; In other markets too, the removal of paint and other lacquer layers is a delicate job that must be done with great precision. This is often done using sandblasting, although this is not possible on every surface. In many cases, the paint layer is so well absorbed into the surface that removing paint with sandblasting often requires a persistent approach. If this is not done correctly, it can lead to damage to the object. But how do you remove paint without sandblasting?
With the Bristle Blaster® and MBX® removing paint and other lacquers is a piece of cake. The MontiPower power tools ensure that the object is made paint-free with the utmost care using the rotating brush with its characteristic curved points. This ensures that the surface gets clean without getting damaged. In addition, the impact and rebound of the brushes create an ideal bonding layer for a possible new layer of paint. It makes MontiPower's power tools not only suitable for removing paint, but also for other layers such as signage.
The power tools from MontiPower are also used in other markets such as the welding industry, industrial sector, or the marine sector.
Passive corrosion protection is essential to pipeline safety. During construction and repairs, the pipe surface needs to be prepared before the passive corrosion protection system can be applied to ensure long-term protection. This is usually done by sandblasting the surfaces. 3R magazine talked to André Prytamannyi, project director at Augel GmbH, and Uwe Boensch, National Sales Manager at MONTI – Werkzeuge GmbH about experiences with using this technology and its technical details.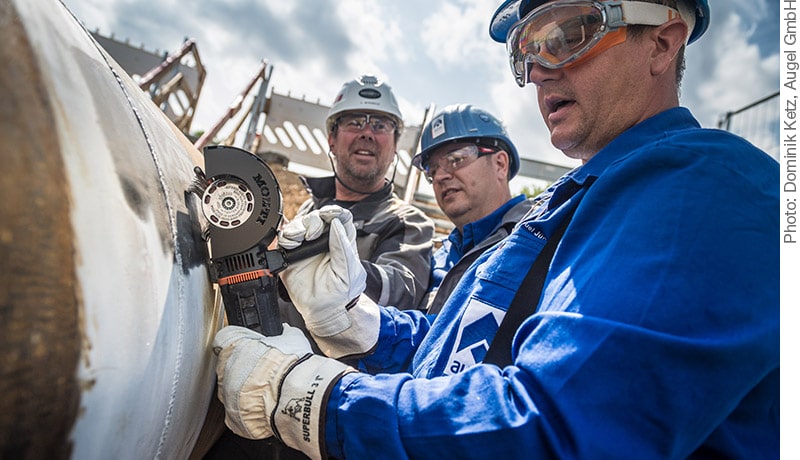 3R: Mr. Boensch, MONTI – Werkzeuge GmbH is celebrating its 30th anniversary this year. How did everything start and what led to developing the Bristle Blaster?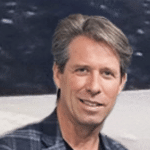 Frits Doddema
Author of MontiPower®
Leadership | Sales | Marketing | Development
Our CEO Frits Doddema, born in 1970, has a background in Industrial Coatings since 1998. He worked for Sigma Marine Coatings The Netherlands, Carboline Coatings for Germany/Central Europe, STOPAQ BV from the Netherlands, and SealforLife Industries before he joined MONTI - Werkzeuge GmbH in 2018. Since 2008 he works as the CEO/Partner.
He is passionate about alternating solutions which make a true difference. Nothing is impossible is his credo. To make the impossible possible, Frits and the management believe in just one idea to make it happen and to turn the company in a great firm. The innovative approach for game-changing blasting and paint solutions is hands-on keeping in mind the difficult field circumstances for operators, respecting nature and long term costs. The mission is to avoid any disagreement over quality of prep work and coating. Frits and his team push for non-hazardous long term corrosion prevention solutions to overcome any hassle out of a coating job ensuring the best possible bond. The world's best coatings deserve the world's best surface preparation. Like in daily life, preparation is everything. From different perspectives like Safety, Health, Ergonomics, Productivity, Recyclability, Co2 neutrality of the plant and the coating process, Substrate Compatibility, Corrosion Resistance, Frits and team are driven to come with improved unique contribution solutions to existing and new end markets.
News
The latest news about us