Corrosie is de aantasting van metaal als resultaat van een chemische reactie met factoren uit de omgeving. Deze reactie kan ontstaan door verschillende factoren, waardoor er ook vele verschillende soorten corrosie zijn te onderscheiden. Een van de bekendste vormen van corrosie is roest. Hierbij ontstaat er een bruine laag op het metaal, als gevolg van een chemische reactie tussen zuurstof en vocht. Beide termen – corrosie en roest – worden vaak door elkaar gebruikt. Echter, dit is onjuist. Waar corrosie de overkoepelende term voor de aantasting van metaal is, is roest hier slechts een voorbeeld van. Alhoewel roest wel degelijk een van de bekendste vormen van corrosie is, zijn er dus nog andere vormen van corrosie te onderscheiden. Maar welke vormen van corrosie kennen we eigenlijk nog meer? En hoe kun je corrosie het best verwijderen?
Soorten corrosie
Zoals gezegd, zijn er verschillende soorten corrosie. Corrosie ontstaat als gevolg van een chemische reactie tussen verschillende factoren. Bij roest gaat dit dus om zuurstof en vocht, maar corrosie kan ook ontstaan door bijvoorbeeld zuur, elektrische spanning of bacteriën. We kunnen de volgende tien verschillende soorten corrosie onderscheiden:
Zuurstofcorrosie
Uniforme corrosie
Zuurcorrosie
Galvanische corrosie
Spanningscorrosie
Zwerfstroomcorrosie
Putcorrosie
Spleetcorrosie
Interkristallijne corrosie
Microbacteriële corrosie
Wilt u meer weten over corrosie en het ontstaan ervan? Lees dan meer over de verschillende soorten corrosie.
Corrosie verwijderen
Er bestaan verschillende manieren voor het verwijderen van corrosie. Van oudsher werd dit vooral gedaan met behulp van abrasief stralen. Bij deze methode van oppervlaktebehandeling wordt een straalmiddel in combinatie met lucht onder hoge druk op het oppervlak aangebracht, waardoor corrosie, maar ook ander vuil als walshuid en coatings worden verwijderd. Een bekend voorbeeld van abrasief stralen is zandstralen. Naar verloop van tijd kwamen er echter verschillende nadelen van stralen aan het licht. Zo werden er verschillende gevaren van zandstralen ontdekt en is het stralen bovendien een tijdrovende en dure bezigheid.
Met de Bristle Blaster® en MBX® biedt MontiPower dé revolutionaire technieken op het gebied van oppervlaktebehandeling. De elektrisch aangedreven gereedschappen zijn eenvoudig zelf te bedienen en kennen een zeer snelle en effectieve werking. De Bristle Blaster® en MBX® worden gekenmerkt door een ronddraaiende borstel met gepatenteerde kromme borstelpunten. Deze borstelpunten zorgen niet alleen voor een effectieve verwijdering van corrosie, maar creëren bovendien een oppervlakteprofiel at gebruikt kan worden als hechtingslaag voor een nieuwe coating. Dit maakt de Bristle Blaster® en MBX® het perfecte alternatief voor zandstralen en andere abrasieve straaltechnieken.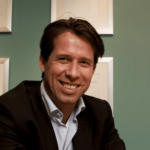 Frits Doddema
Author of MontiPower®
Leadership | Sales | Marketing | Development
Frits is passionate about game-changing alternate products which contribute to a more sustainable world. Passively he invest in various concepts ranging from fashion glasses, hotelsahead, real estate, corrosion-resistant packaging, and in a social network software firm, and actively he devote his days to proteft steel against corrosion. He does have a 20 years trackrecord in sales, marketing, development and manufacturing of problem solving corrosion problems ranging from start-ups, scale-ups and for stockquoted corporations as CEO. The area is pipe welding, surface preparation, coating, sealing, rust passivation, insulation, inspection, testing and corrosion monitoring is my place. Fearless, as a team he enjoys changing smaller operations into larger professional companies.
During his life he has been fortunate to work with and learn from self-made entrepreneurs like Mr. Van Riemsdijk of Asito, or Frans Nooren of Stopaq, John Rich of Berry Plastics. All what is takes is to make the impossible possible. For this, a vision, mission and the right approach is needed in order to stand out versus competition. Without competition you can't win. Focus, discipline and teamwork creates our succes and joy. It binds us and makes us proudly different.
News
The latest news about us