Passive corrosion protection is essential to pipeline safety. During construction and repairs, the pipe surface needs to be prepared before the passive corrosion protection system can be applied to ensure long-term protection. This is usually done by sandblasting the surfaces. A few years ago, tool manufacturer MontiPower® introduced a handy surface treatment tool for preparing smaller surfaces on site and other special situations: The Bristle Blaster®. 3R magazine talked to André Prytamannyi, project director at Augel GmbH, and Uwe Boensch, National Sales Manager at MONTI – Werkzeuge GmbH about experiences with using this technology and its technical details.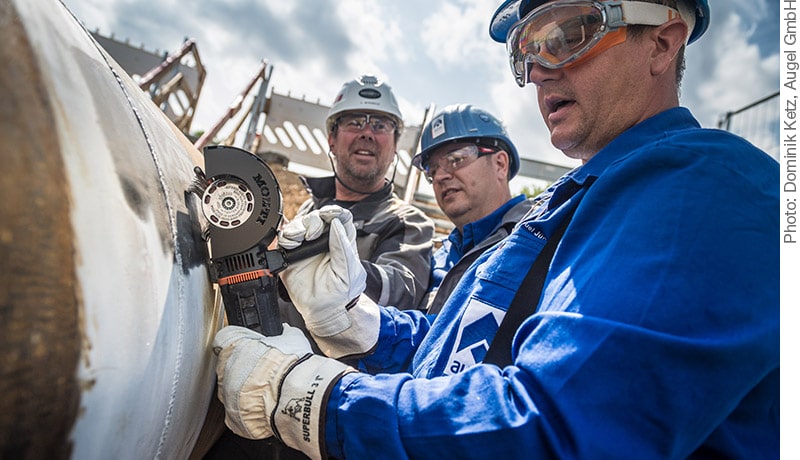 3R: Mr. Boensch, MONTI – Werkzeuge GmbH is celebrating its 30th anniversary this year. How did everything start and what led to developing the Bristle Blaster?
Uwe Boensch: 30 years ago, MONTI started developing a flexible brush belt system for the automotive sector. This patented technology was used to remove underbody coating as well as residual paint and corrosion. In 1995, the company launched MBX, its first own pneumatic machine. The main advantage of this patented technology is that it generates no friction heat that would make the removed materials, such as underbody coating, melt and stick. In 2006, Werner Montabaur developed the Bristle Blaster based on MBX technology, which was unveiled to the public for the first time at the 2007 ADIPEC show in Abu Dhabi. The technology quickly gained traction in various industrial sectors – wherever steel surfaces need to be prepared for coating, from the automotive sector to plant construction, shipbuilding, pipeline engineering or restoring offshore plants. Another sign of success is that the Bristle Blaster is now available in more than 80 countries.
3R: What sets the Bristle Blaster apart from other tools?
Uwe Boensch: Its main advantage is that the specially shaped and polished steel wires strike the workpiece surface almost perpendicular and with a lot of kinetic energy, thus removing any adhesive products. This creates the desired surface purity and roughness at the same time. The high kinetic energy is achieved by pre-tensioning the wires with a bolt. The individual wires are anchored in a polyamide belt. Complex parameters such as wire length, wire thickness, and the thickness and properties of the polyamide belt took extensive development to get just right.
3R: Mr. Boensch, you have been working in the pipeline sector for many years and are an expert on passive corrosion protection. Will the Bristle Blaster eventually take over from sandblasting entirely as the main process for surface preparation in pipeline construction?
Uwe Boensch: Most certainly not. The Bristle Blaster should be seen as an addition to sandblasting. Currently, the technology makes sense for preparing contiguous surfaces of up to 4.5 m². However, it is also an excellent option when environmental protection prohibits other procedures. For instance, Open Grid Europe GmbH refinished a 175-meter section of a DN 1000 pipeline using only Bristle Blaster technology in 2012, because the pipeline crosses through a bird sanctuary where sandblasting was not an option. Another field of application is opened up by the Bristle Blaster Pneumatic technology. It is ATEX certified and can be used for working in zone 1, for instance on active gas pipelines. Last but not least, we are currently testing a new development that will enable cost-efficient treatment of larger surfaces. The first on-site tests will be performed shortly.
3R: What do we need to know about using the Bristle Blaster, and how error resistant is it?
Uwe Boensch: Using the Bristle Blaster is really quite simple. However, you need to keep a few basic things in mind to get the desired surface purity and roughness of 60 to 70 µm. If you are used to conventional sanding machines and use the Bristle Blaster in the same way, you will not get the right results. The Bristle Blaster needs to be moved downwards in a straight, vertical line. Combined with the right pressure, this ensures the required surface roughness. Tool briefings and hands-on Bristle Blaster training are an essential part of our customer service. We also supply the GW 15 exam training centers with Bristle Blasters for their courses.
3R: Mr. Prytamannyi, Augel GmbH has been working in pipeline and plant construction for decades, including the restoration and retrofit encasing. Since when have you been using Bristle Blaster technology, and what are your employees' experiences with the tool?
André Prytamannyi: We got our first Bristle Blasters about three years ago, and have since gathered extensive and entirely positive experience with the tools. They can be used with ease and safety after a short instruction period. The treated steel surface is comparable to one that has been sandblasted. We use the Bristle Blaster for surfaces up to 4 m². For some repair jobs, we even use two machines at the same time to treat surfaces up to 6 m² using, which is perfectly safe with the Bristle Blaster.
3R: What are the main advantages compared to sandblasting?
André Prytamannyi: As Mr. Boensch already pointed out, there are some projects where sandblasting is not an option, for instance because of environmental concerns. The Bristle Blaster also requires much less effort than sandblasting. This starts with preparation. Sandblasting requires a large compressor, the sand blaster and abrasive material, etc. – that already fills up an entire van and takes an hour to load. The Bristle Blaster merely requires a small power generator or compressor unit and the Bristle Blaster in its case – which all together doesn't even take up a square meter of loading area and takes only 15 minutes to load. Another advantage becomes evident while working. Sandblasting is a lot more involved – just consider the necessary safety equipment, such as lung protection, or places where you have to collect all the blasting material and dispose of it properly. Some jobs even require setting up an enclosure, which drives up the cost immensely. On difficult terrain, getting the equipment to the site is also a factor – and one where the Bristle Blaster is way ahead.
3R: How would you rate your experience with the Bristle Blaster and is there anything you would ask from the manufacturer?
André Prytamannyi: The Bristle Blaster's surface preparation quality is outstanding – given proper use of the machine, of course. We take great care to train and instruct our employees. For us, the Bristle Blaster is an excellent addition to sandblasting for the applications we discussed. To date, we have three electric and two pneumatic units that are constantly in use. Our employees are very pleased with the machines. One wish for the future might be increasing the size of the surfaces that can be treated efficiently. We are excited to see the results of the current development work at MONTI.
3R: Mr. Boensch, Mr. Prytamannyi, thank you very much for this interview.
News
The latest news about us